Overview
---
Tutorial created, maintained and coded by Stephanie J. Coopman, San José State University.
A CSU Information Competence Work Group fellowship provided support for the site's development.
Website host: Rogue Communication.
---
Created on a


Last updated - Wednesday, July 13, 2016

---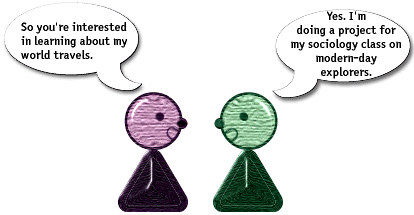 Description
---
This tutorial, "Conducting the Information Interview," contains seven modules Each module includes an activity for you to apply what you've learned. The modules correspond with the seven stages in the information interview. Before beginning, assess your knowledge of information interviewing by completing the Pre-Test. There's a post-test at the end so you can compare your scores.
The Overview page provides general information about interviewing and the information interview. Descriptions of each module are on the Modules page. Activities and exercises for applying the information in the modules are listed on the Applications page. The Resources page includes online resources to help you in conducting information interviews. The References page lists sources used in developing the content for this site.